Prepare section
The Prepare section is where you do most of your work before the conversion.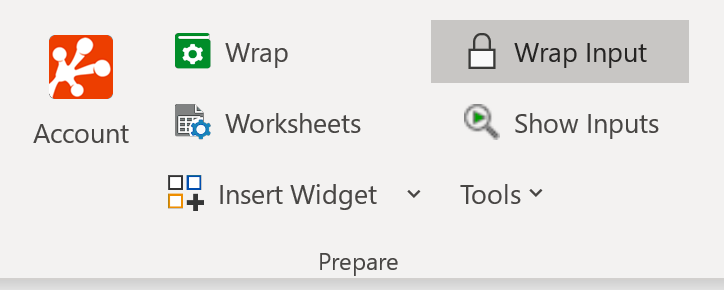 Task pane shortcuts
Clicking on the shortcuts opens the Account, Wrap or Sheets tabs of the task pane. If the currently selected cell in Excel does not already contain a widget, you can insert a widget into the current cell.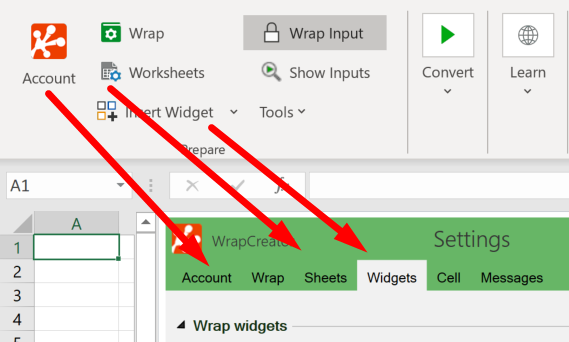 If there is already a widget in the current cell, the Insert Widget button changes into Edit widget to let you access the widget's settings directly from the ribbon.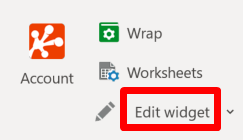 The settings for worksheet-level widgets like Hide Rows/Sheets and Responsive Blocks are always accessible directly from the ribbon.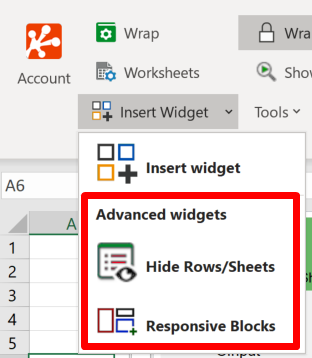 Working with input fields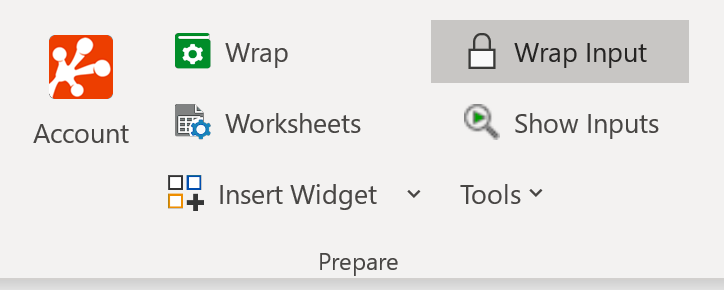 You need to unlock the fields in the wrap that will be used for text input. The quickest way it to select a cell and press Wrap input. This opens the Cell tab on the task pane where you assign a name to the cell. You can also insert a Text widget into the cell to gain access to additional options like Required, Hidden, Multi-line, and Auto Height.
To see what cells you have opened for input, press Show inputs.
The Tools menu
The Prepare section of the ribbon also contains a Tools menu with ancillary functions that you may find use for when you prepare a spreadsheet to be converted to a wrap, like Map to Names for rapid assignment of cell names from field labels, and Map to Comments for an easy way to create Excel notes from a cell range.