Upload the Wrap to the Wrapsite
When you're happy with the layout and formatting of the Wrap, you probably want to upload it to the Wrapsite and see how it works there.
Log in to the Wrapsite and navigate to the Administration dashboard. Look for the link to ExcelWraps in the left-hand sidebar.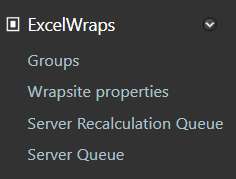 Then continue reading on the Wrap administration help page.
Testing the Wrap on the Wrapsite
To test the Wrap, you need to create a link to it. If you run into permissions issues, you need to verify how you have set up your permissions model.