Wrapsite settings
The global options for your Wrapsite are defined on the Administrative dashboard > Settings pages available from links in the sidebar.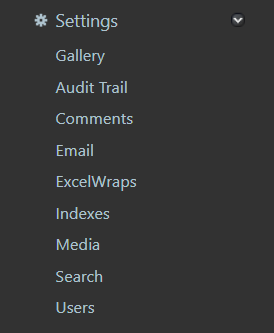 General
The settings for Site name and Base URL should not be changed. Contact client services to discuss any changes to these settings.
The Default Site Culture and Default Site Calendar are used to provide you with appropriate language and formatting of numbers, dates, and times. ExcelWraps is currently only tested with the en-GB culture and its calendar. The results of selecting other values for these settings are unpredictable.
The Default Time Zone determines the local time for the Wrapsite, used in Wraps and in the administrative tools. Note that timestamps in extracted files usually have the server's timezone, please consult the documentation of the file format.
Settings for MyWraps
Some aspects of MyWraps are controlled by the settings for
Default number of items per page (default pageSize)
Maximum number of items per page (upper limit for pageSize)
The help for the MyWraps-related settings is on the MyWraps help page.
Settings for Google Analytics
If you use Google Analytics and wish to register traffic to your Wraps there, you should add the corresponding Google Analytics Tracking Key.
We recommend that you enable Use Async Tracking to avoid having processes related to Google Analytics delay the loading or performance of the web pages.
Normally, you don't want to include the Google Analytics tracking code on the administration pages because these users and their visits are internal and irrelevant to your website statistics. If you do want these visits tracked, enable the Include on /Admin pages option and we'll include the tracking code on such pages, too.