Function reference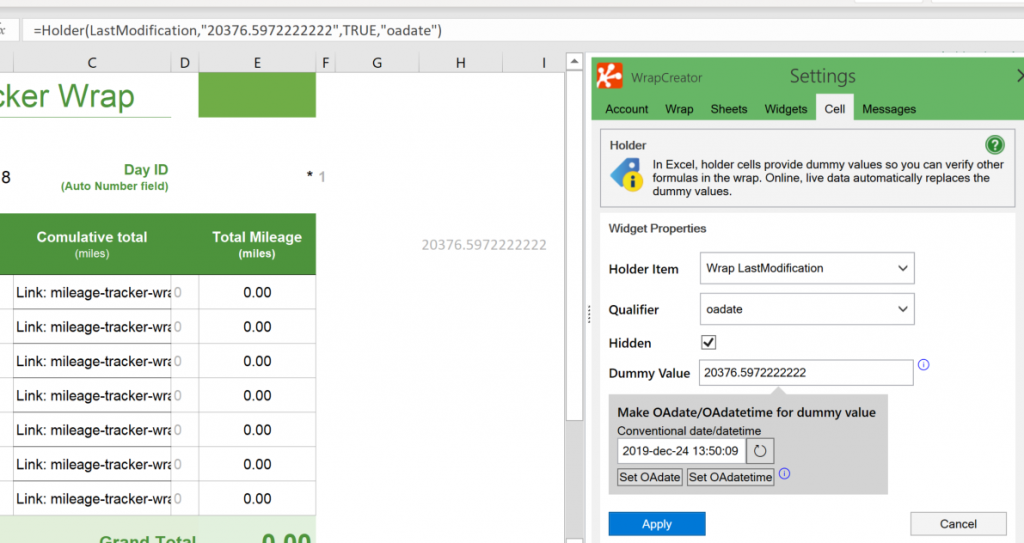 Example
In this example, you want the Holder widget to return the timestamp for the most recent modification of the wrap instance. You provide a default value in the form of an Excel serial number. The Holder widget is hidden. This is what the function call looks like:
=HOLDER(LastModification, 20376.5972222222, TRUE, "oadate")
Format and parameters
=HOLDER(holder_item, dummy_value, hidden, qualifier)
holder_item defines the event you want to know more about. The possible values are
Creation – the creation of the wrap instance.
LastModification – the most recent modification to the wrap instance.
ActiveUser – the user most recently working with the wrap instance.
Note: these are actually cell names, not string values – no quote marks, please.
dummy_value contains a value you want the Holder widget to provide during testing in Excel – at runtime, real values from the server are used instead. Read more in the Parameters section above.
hidden if set to TRUE, makes the contents of the holder cell invisible in the wrap.
qualifier contains a key telling the server what it is you want to know about the event – the possible values are listed in the description of the holder cell parameters above.
=@HOLDER(ActiveUser, "JaneDoe", TRUE, "username")