Shortening the table
If the table you want to display is very long, scrolling through it may be inefficient. There are several simple ways to make the table shorter. Here is an example that uses both filtering and pagination.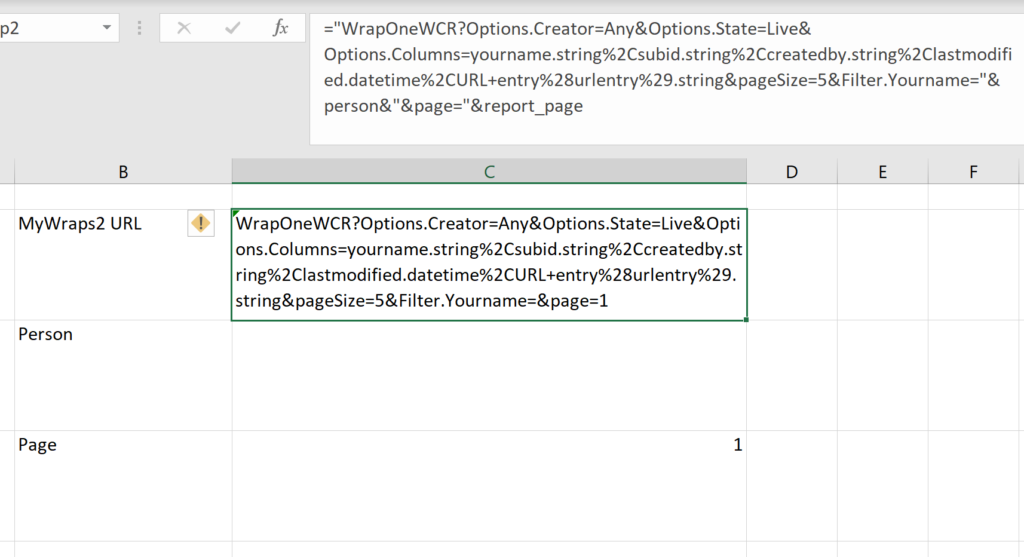 Filtering
MyWraps provides a very fast filtering mechanism. If you know a key cell in the report, you may offer the user an input field to type a value for this cell to filter on.
In the example above, we offer the user cell C4 with the caption Person. Whatever name the user enters here is placed into the MyWraps link using the
&Filter.Yourname="&person
parameter. If no name is entered, the full list is shown. If a name is entered, only the table rows for that person will appear in the table.
Pagination
MyWraps also provides scrolling. You set the number of table rows per page with the pageSize parameter, in the example above we have used
&pageSize=5
You can use any number since ShowTable has no inherent limit for the number of rows in a table.
The resulting pages are referenced using the page parameter. For this, we have provided an input field in the example called report_page, so the link parameter becomes
&page="&report_page
This inserts the page number entered by the user into the MyWraps link, returning only the rows that fulfill the pagination criteria.
It may be obvious, but if you want to practice some maths, the basic pagination formula is (page-1)*pageSize+1. With pageSize=10 and page=2, the report will start with row (2-1)*10+1=11 of the table.