Insert the Hide Rows/Sheet widget
Click on the Hide Rows Sheet icon in the Widgets tab of the task pane.
Click the Add new button.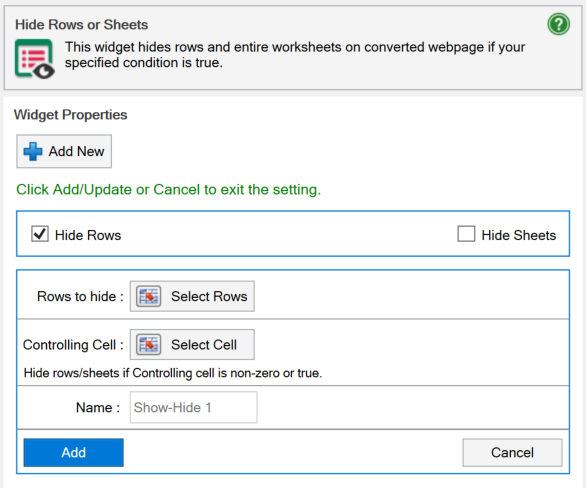 Select Hide Rows to hide rows and/or Hide Sheet to hide worksheets. If you select both options, the same controlling cell will hide both cells and worksheets.
For Hide Rows, an option named Rows to Hide will appear where you choose which rows to hide in the browser. Click on the Select Rows button and use the dialog box named Select Row range to select the range of rows to hide when a condition is true.
For Hide Sheets, an option named Sheet to hide will appear where you tick the checkbox for each sheet you want the browser to hide when a condition is true.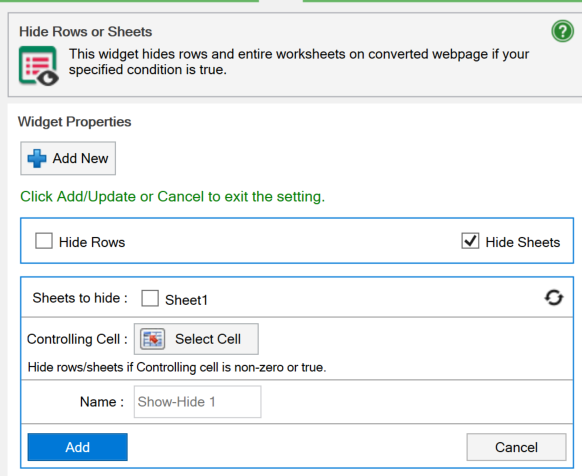 In the Controlling Cell option, select the cell which will control if the rows or worksheets are hidden or visible. If the value of the controlling cell is True or non-zero, the controlled rows and/or sheets are hidden.
The controlling cell may contain a checkbox widget, a textbox widget or any other widget that allows values to be entered.
To remember what this instance of the widget does, give it a descriptive name that tells you what you intended with the setup.
Press Add to activate the widget.
If you don't want the controlling cell to be visible, insert a Utility Cell widget into the controlling cell and tick its option Make hidden field.
Convert the spreadsheet and test the wrap.