Troubleshooting
Follow these instructions to troubleshoot technical problems with WrapCreator. 
Do you have problems downloading and installing the add-in? Are you using the add-in but it doesn't work as you expect? Just follow the steps below and we will help you make it work.
If you have problems during download and installation
If you have installed WrapCreator but there is no WrapCreator tab in your Excel ribbon, or if you have problems related to download or installation, contact our Client Services team immediately.
Check the Known Issues
The problem you have may already have been detected by or reported to us. Until we can fix such issues, we document them on the Known Issues page.
Verify you have the latest version of the add-in
The problem you are experiencing may already have been solved in the most recent update of the add-in. Before reporting a problem, you should always open the About box from the ribbon.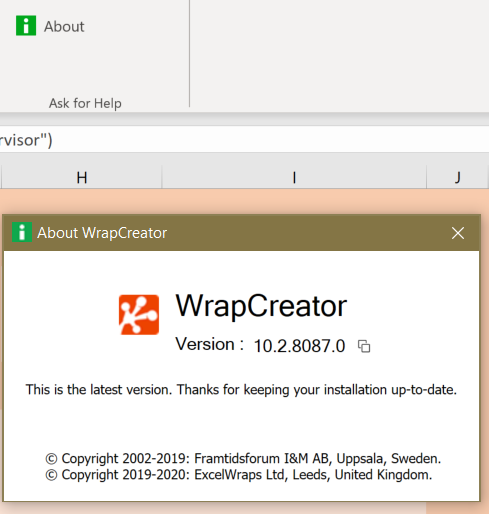 The About box will alert you if you should download and install the latest version of WrapCreator.
Test with one of our examples
If the converter does not work as you expect, e.g. it stops during conversion or you get strange messages from Windows, Excel or the add-in, this may or may not relate to the actual spreadsheet you are converting. To make it simpler for our help desk to recreate your problem, please use the Try Examples link in the ribbon to open the Mileage Tracker Wrap example that was installed with WrapCreator.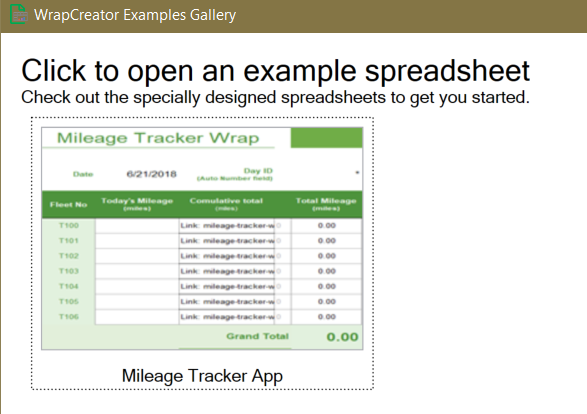 The example spreadsheet does the following:
It verifies that add-in was installed correctly and is available in Excel.
It runs a test conversion of the example spreadsheet to a web page.
It opens the converted web page in your default web browser.
If any of these steps fail, please uninstall the program from Settings > Apps and install it again.
If you still get the same problem you had before, it is better for us if you report it against our example than your own spreadsheet that we don't know anything about.
Use the Contact Form
If you need help, describe your problem using the Client Services contact form.
You're not alone
We provide the best possible support, both for trial users and customers.