Google Analytics visitor tracking
When you convert a spreadsheet for the web with WrapCreator, you can automatically insert a Google Universal Analytics tracking script into the generated code.
To do this, enter your Google Analytics Tracking ID in the Administration dashboard > Settings page of your Wrapsite.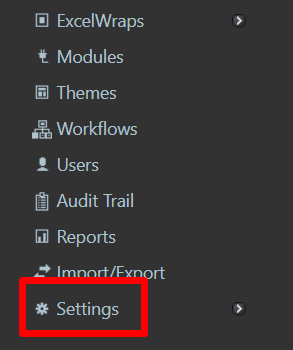 The Google Analytics tracking code
For each subsequent conversion, a Google Analytics universal tracking script for the provided tracking ID will automatically be inserted into the converted web pages.

Finding the tracking code
If you want to verify or modify the tracking code, it is inserted in .js files that are located in the output folder structure for the spreadsheet in the conversion path.
The default file system path to the conversion output is <username>/Documents/WrapCreator/. If you can't find this folder, navigate to the WrapCreator ribbon menu in Excel, open the Options > Browsers and Conversion Path window and follow the Conversion Path setting to the conversion output folders.
Note: if you use OneDrive, there may also be a /Documents/ folder in the main OneDrive folder. Depending on your system settings, this folder may be used instead of the <username>/Documents/ folder.
In the conversion output folder, there is one folder for each spreadsheet you have converted. Inside this folder, you should enter the /public/ folder if there is one, then the /assets/js/ folder.
If Combine JS and CSS files is selected in Options > User Settings > Advanced Settings, the Google Analytics code is inserted into the app.min.js file. Otherwise, the Google Analytics code is inserted into the ssc.script.js file.
Using Google Analytics to verify the pageviews
All visits to your calculating web pages and forms will be tracked in Google Analytics just like any other page on your website. You will find all visits to the page under Analytics > Behavior > Site content > All pages. In the example below we filtered the list for "/calculate/" since this is the folder where we store all our example calculators.

If your Google Analytics Tracking ID changes, or if you need to use more than one tracking ID, you must change the setting before you convert the affected web pages. The tracking ID for any web page you have already converted will remain the same as it was when the corresponding spreadsheet was last converted.
Other visitor tracking systems
If you use another visitor tracking system, you need to manually insert a visitor tracking script for your tracking system into the HTML source for each converted web page.
If you intend to show the calculator in an iframe, or cut-and-paste the HTML source for the calculator into the source for an existing web page that already has visitor tracking enabled for it, there is no need to add a separate tracking script for the calculator.